U.S.A. –-(Ammoland.com)- Former Vice President and 2020 Democrat hopeful Joe Biden may have once again unintentionally inserted foot in mouth when he reacted to the Sunday mass shooting at the Garlic Festival in Gilroy, Calif.—a state with possibly the strictest gun laws in the nation—by tweeting, "How many more families will have to lose a loved one before we fix our broken gun laws? We must take action, starting with real reform," according to Fox News.
With its strict gun control laws—all passed in a state by lawmakers who claimed each new restriction was designed to "fix" and "reform" a "broken gun law"—California legislators, Biden and some of his equally-exploitive competitors evidently don't get it, critics could say. Restrictive Golden State gun control laws cannot prevent criminals from committing crimes or prevent madmen from causing mayhem. The career politician now clinging to a lead in the Democrat primary race as Wednesday evening's second debate looms famously once suggested firing a shotgun into the air as a way to frighten burglars away.
Biden, and California Sen. Kamala Harris, who as the state attorney general before she moved up the political food chain used to enforce those gun laws, may have some explaining to do.
The site of the Garlic Festival is a "gun-free zone" and people are checked with metal detectors before being allowed to enter. But the alleged gunman, who was fatally shot by police within a minute of opening fire, apparently cut through a chain link fence to get around security measures and violate the gun restriction. He may not be the only suspect, authorities have indicated.
Among the dead is a 6-year-old child identified as Stephen Luciano Romero. A dozen people were injured.
A 13-year-old witness to the shooting, identified by Fox News as Evenny Reyes of Gilroy, reportedly told the Mercury News, "It was like the movies — everyone was crying, people were screaming."
The suspected killer has been identified as 19-year-old Santino William Legan, according to CBS News. He allegedly used an unidentified rifle in the attack.
The scene of the shooting is in a county where, according to researcher and author John Lott, founder of the Crime Prevention Research Center, average citizens have a difficult time obtaining a concealed carry permit. Lott said Santa Clara County has only 113 active carry permits in a population with some 1.5 million adults. But even if more people had permits, they would have been unable to carry at the Garlic Festival because of the firearms prohibition.
Harris and another anti-gun Democrat running for the party nomination, Sen. Cory Booker both talked about an "epidemic of gun violence." If that is so, this epidemic broke out in the "hospital" environment of California, where gun laws are so restrictive that even ammunition purchases require background checks. The state has steadily eroded gun rights for many years.
Virtually every Democrat now running for the party nomination has espoused some sort of gun control scheme, from national licensing and registration to bans on so-called "assault weapons" and "high capacity magazines." Fox News noted that "Gun control has been a key issue for Democrats and many have laid out plans on how they will approach the issue."
The quick police response by officers who were already on the scene providing security reinforced the argument that "the only thing that stops a bad guy with a gun is a good guy with a gun." That observation was first made by now-embattled National Rifle Association Executive Vice President Wayne LaPierre in response to the Sandy Hook Elementary School tragedy in Newtown, Connecticut.
---
About Dave Workman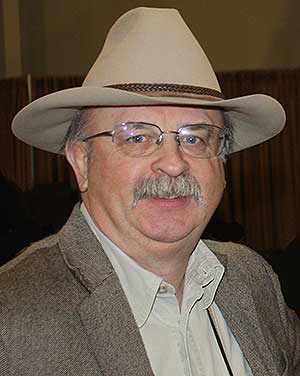 Dave Workman is a senior editor at TheGunMag.com and Liberty Park Press, author of multiple books on the Right to Keep & Bear Arms and formerly an NRA-certified firearms instructor.